Banana Orange Oatmeal (Porridge)
twissis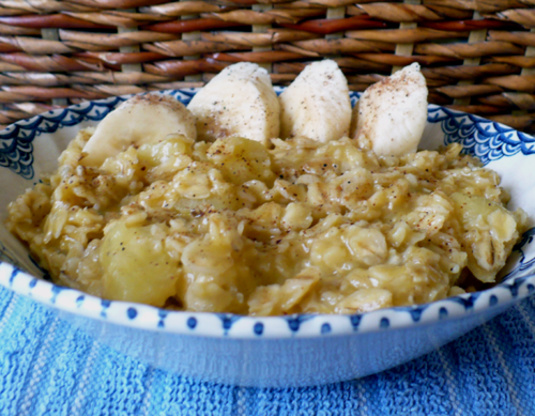 This is from CD Kitchen, combine your morning OJ with your oatmeal for a tangy brekky.

Tagged for the *Zaar Stars* game, I made a single serving of this tasty new version of my morning oatmeal. Sweetness is always a matter of pers pref & I agree w/Sarah Jayne that in this recipe it is entirely a matter of the OJ used. I expected mine to be tart & it was, so I used a bit of honey to correct that for me. I esp liked the use of nutmeg & even sprinkled extra atop the oatmeal. Thx for sharing this recipe w/us.
2

cups orange juice

1

banana, chopped

1

pinch salt

1

cup quick-cooking rolled oats

1

pinch grated nutmeg
In saucepan, bring orange juice, banana, and salt to boil; gradually stir in rolled oats.
Cook, stirring, for 1 minute; remove from heat. Stir in nutmeg; cover and let stand for 5 minutes.
Alternatively you could do thi in the microwave will take approx 2 1/2 mins to cook.