Pam-I-Am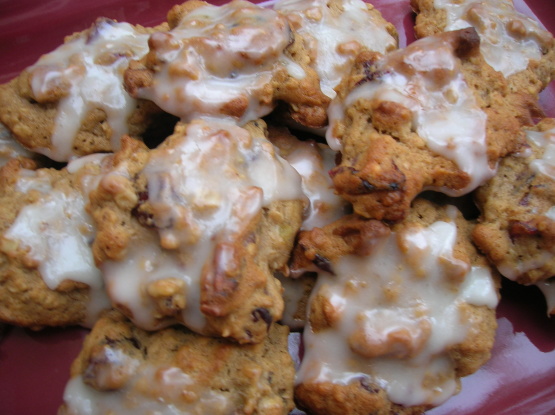 Don't let the name fool you! These are cookies that end up soft and tender with a nice crunch from the nuts. I love the flavor comination of the lemon and banana. I personally don't care for rasins, so I use crasins (dried cranberries) This is another great way to use up ripe bananas!

I love these!!! They are lovely and moist and the spices go well with the banana. Its a nice alternative to banana bread for using up bananas. Thanks!
Heat oven to 350°F Line cookie sheets with non-stick aluminum foil or spray with Pam spray.
For cookies, beat sugar and margarine in large bowl until creamy. Add bananas, egg and lemon peel; beat well. Add combined flour, cinnamon, baking soda, salt, ginger and nutmeg; mix well. Add oats, raisins (crasins), and nuts; mix well.
Drop dough by rounded tablespoonfuls onto cookie sheets.
Bake approximately 10 minutes or until light golden brown. (Do not overbake; cookies should remain soft.) Slide cookies and foil from cookie sheets onto wire rack; cool while preparing glaze.
For glaze, combine all ingredients in small bowl; mix until smooth. (Glaze should be thick). Spoon small amount of glaze over each warm cookie, letting glaze run down sides of cookie. Cool completely. Remove cookies from foil. Store tightly covered.