bunkie68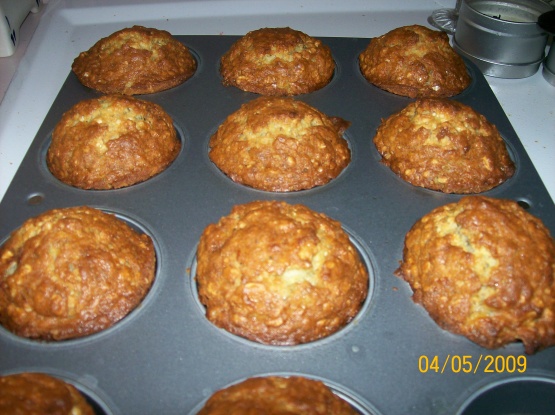 From Company's Coming 'Muffins and More'. These are really moist and delicious.

I made this for PAC 2009, and I found this to be a good basic muffin recipe. I followed the recipe exactly as written. At first I didn't think there was a lot of flavor to it, but the banana gives it a subtle sweetness. The oats give it a nice chewy texture. Next time, I'd probably spice it up a little with some cinnamon or nutmeg, and maybe throw in a handful of nuts, to make it more to my family's liking. But I will make them again! Thanks for sharing, Sameveel!
Preheat over to 400 degrees F (200 C).
In a large bowl measure the first 6 ingredients. Stir to mix. Make a well in the centre.
In a small bowl beat eggs until frothy. Mix in cooking oil, milk and bananas. Pour into well. Stir just to moisten (overmixing will make muffins tough). Batter will be lumpy.
Fill greased muffin cups 3/4 full. Bake 20-25 minutes.