PSASSY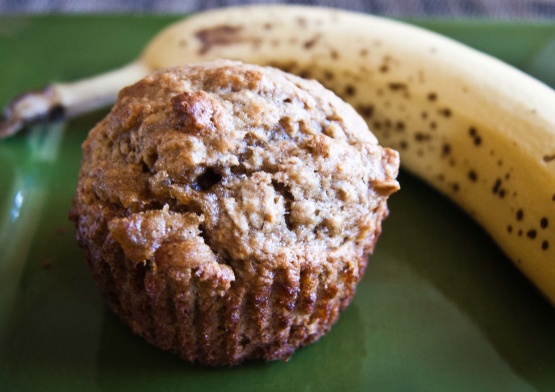 These are my family's favorite muffin, even my husband who doesn't care for baked banana goods. This is the #1 afterschool treat for my daughters. NOTE: Muffin batter should always be mixed by hand; your muffins will be dense and thick if combined with a mixer.

Simply wonderful! This is my go-to muffin recipe now. I make a batch each and every week, and have one muffin for breakfast or a snack each day. Because I have a certain health condition that benefits from a high-fiber diet that is rich in Omega-3s, I add flaxseeds and walnuts to every batch. To keep things interesting, I sometimes will replace the bananas with other pureed or mashed fruit (such as apples or mangoes), and play with the spices accordingly. Simply the best, most reliable and tastiest muffin recipe I've found. Thanks so much for sharing!
Preheat oven to 375°F In medium bowl, stir together the flour, oatmeal, sugar, baking powder, baking soda, salt, cinnamon and nutmeg. In a separate bowl, combine the mashed bananas, eggs, vanilla and butter. Add the banana mixture to the flour mixture, stirring just until the dry ingredients are moistened.
Spoon batter into greased muffin cups. Bake for 15 to 18 minutes (start watching around 12 minutes; oven temperatures vary) or until toothpick inserted into center muffin comes out clean. Let cool in pan on wire rack for 10 minutes. Remove muffins from pan and let cool on wire rack.