Banana Oat Bran Muffins With No Added Sugar
Jenny 2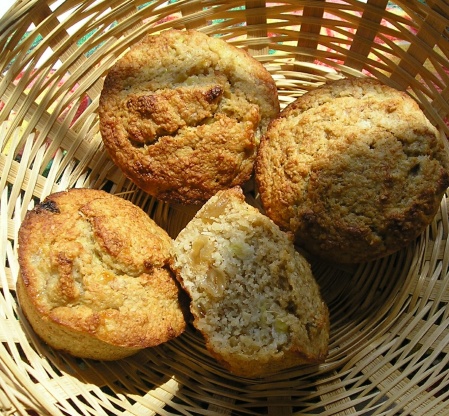 Yummy muffins with only fruit as the sweetener. Also, no flour only oat bran. This is the second recipe I have tried from "Sweet & Natural; Desserts without sugar, honey, molasses or artificial sweeteners" by Janet Warrington. This is definitely not a cupcake, but a good solid muffin with good nutrition. My kids liked them with jelly or a little spray butter (Hey, we can't eat perfectly ALL the time!). Dense and moist these are a nice breakfast or snack. I used frozen banana because I have a ton of bananas in my freezer, plus I think it mashes more easily. But feel free to use what you have!
Reminded me of oatmeal with a crunch. Here's what I tweaked: 2c oat bran No oil. Used 1/2 c apple sauce instead. 2 egg whites (but I had planned to use a boiled mix of 1 Tbsp flax seed meal and 3 Tbsp water but the meal was MIA) 2 Frozen bananas (microwave defrost setting for 3 min) 1/2 c diced dried prunes. 1/2 c almond milk instead of cows milk. Baked for 25 min at 350 degrees in silicon muffin cups with a bit of cooking spray set on a sil pat rack (holes in it). I took other reviewers advice and put the prunes in the wet ingredients. Makes 12 muffins about 1/4" from the top of the cup. They don't rise much at all.
Preheat the oven to 425°F Spray your muffin cups with cooking spray.
Combine the dry ingredients in 1 bowl.
In another mix the banana, the milk, egg whites, and oil together until they are well combined.
Add the wet to the dry and mix until it is combined. Then add the raisins and combine.
Put them into the muffin tins.
Bake for 18-25 minutes or until golden.