Errin W.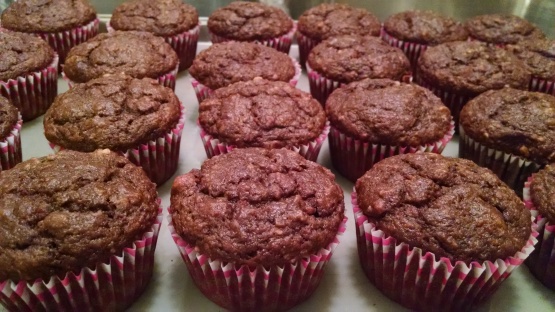 I had Whole Foods Banana Nut Muffin and it was amazing! I always hoped I would find a recipe that tasted similar. I altered a recipe today drastically and was very pleased at how close I got to it. Enjoy!

These were very, very yummy. My whole family, even my picky daughter, liked them! I substituted chocolate chips for the raisins, and wow, it turned out great! I would only recommend spraying the paper cups with a little cooking spray so that the muffins don't stick. Other than that, they were amazing!
1. Blend all wet ingredients (including tofu) in food processor.
2. Add in all dry ingredients with the exception of the walnuts. Blend just till combined.
3. Fold in walnuts and raisins.
4. Put in muffin pan that has been lined with muffin liners. I got 15 muffins from this. Go figure.
5. Bake in a 350 degree oven for 20-24 minutes or till a knife inserted comes out clean.