Banana-Nut Buttermilk Cake
Vince59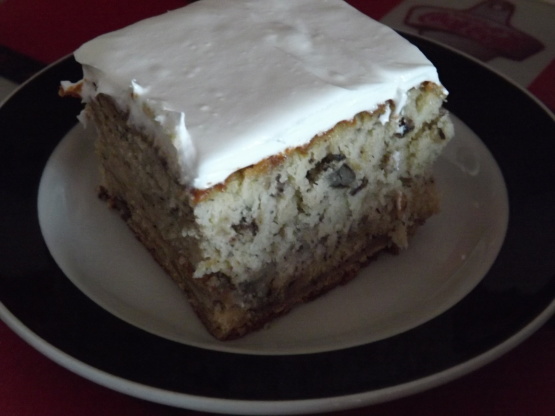 One of the better recipes for banana cakes. I have made this many times, it is very good. Make certain to mash the bananas not puree them, it makes a difference in the cakes texture, I mash with my hands for this.
Set oven to 350 degrees.
Grease a 13 x 9-inch baking dish.
In a small bowl mix together the mashed bananas with lemon juice; set aside.
In a bowl, sift together flour, baking soda and salt.
In a large bowl, cream together the 3/4 cup butter and 2 cups sugar until light and fluffy (about 3-4 minutes) or until no sugar granules remain.
Add in eggs one at a time with vanilla, beating well after each addition.
Beat in flour mixture alternately with buttermilk.
Stir in banana mixture with a wooden spoon (do not beat).
Add in walnuts; stir to combine.
Transfer to prepared baking pan.
Bake for about 50 minutes to 1 hour, or until cake tests done.
Cool completely, and frost with cream cheese, or desired icing.