Bobbiann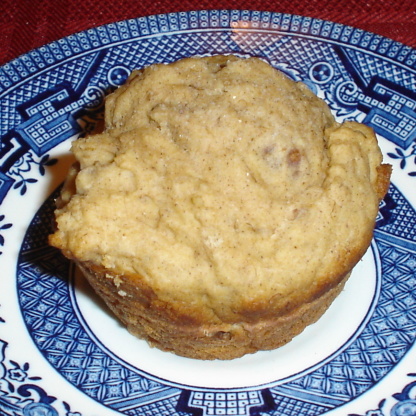 Adapted From the cookbook Wow! This is Sugarfree? Posted by request. The original recipe was for muffins, but I wanted to use my new silicone loaf pan. Delicious.

I like this recipe because it's high in fiber and low in sugar. However, I may add a little more stevia to it next time because my son complained it wasn't sweet enough. It's great spread with a little cream cheese, too. I used whole wheat flour and Smart Balance margarine instead of butter, and I doubled the recipe, because I had 5 frozen bananas that I had thawed. That is a tip I'm sharing with all of you, because that's a great way to use bananas that have sat around and become too ripe. Just stick them in the freezer, and thaw them out for banana bread. They're slimey but work great in any recipe.
Mix first 5 ingredients in bowl.
Add dry ingrients in order listed.
Mix well.
Spray loaf pan with vegetable spray or fill muffin cups with mixture.
Bake 20-25 minutes at 350.