Joyd9060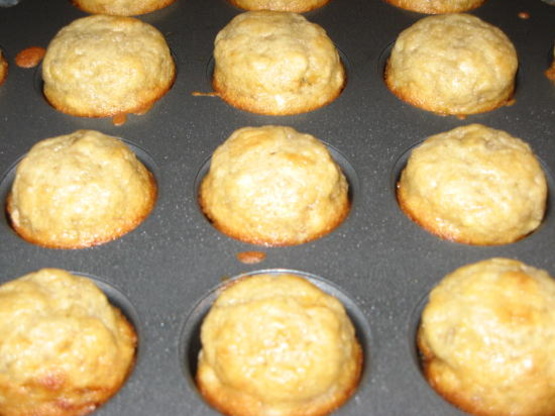 A wonderful breakfast muffin (or snack!) that is worth waking up for!

I loved these muffins!! I thankfully took the advice of Sue and doubled the recipe to make 12 larger muffins. I filled the muffin cups almost all the way full. I now wish that I would have tripled the recipe. Once a month I always make a big batch of muffins to freeze so I can just heat them up in the morning for a quick breakfast. These really will be something worth waking up for! The only change that I made was that I used Smucker's Baking Healthy instead of the oil. It's a fruit based oil and shortening substitute. Even without the oil, I LOVED these muffins. Thanks for such a great recipe. I will be making these again next month!
Grease or line 12 muffin cups.
In large bowl, combine all ingredients, stirring until just moistened.
Pour batter into muffin cups, then bake at 375 degrees for 10-12 minutes, or until done.