Banana Macadamia Nut Muffins
Dana M.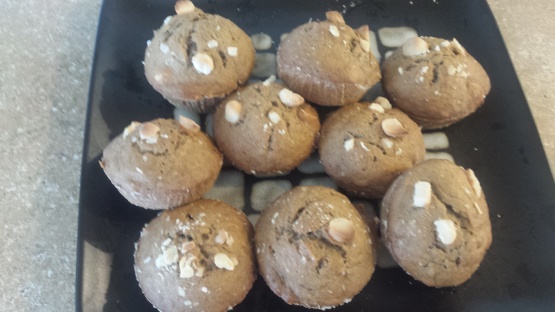 These are really very special muffins - super moist and full of flavor. You can substitute your preference and use different nuts instead of the macadamias. Original recipe is from Epicurious, but I tweeked it a bit.

Delicious muffins and the aroma while they are cooking is worth 5 stars too. Now I have a go-to recipe when I have bananas on hand that need to be used up. Almost makes me not want to eat my bananas so I will have an excuse to make these wonderfully moist and crunchy muffins. Thanks for posting this recipe.
Preheat oven to 350° and grease or place cupcake liner papers in 12 muffin cups.
Sift first 4 ingredients into a large bowl.
Combine bananas, both sugars, butter, milk, egg and vanilla in a medium bowl.
Mix into dry ingredients, then fold in half of nuts.
Divide batter among prepared muffin cups and and sprinkle tops with remaining macadamia nuts.
Bake until muffins are golden brown and tester inserted into center comes out clean, about 25 minutes.
Transfer muffins to wire rack and let cool.