Kim127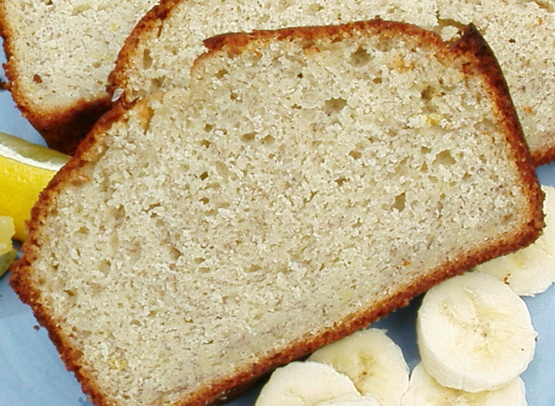 I always like to have some kind of quick bread or cake on hand for my kids to snack on. This one is really flavourful.

This is a go od sweet bread & an easy quick fix. I made a half recipe, baked it in my half size tube pan & it was perfectly done in 30 min. I sampled it warm & it was tasty, but short on lemon flavor. Tempted later, I tasted it cold from the fridge & the lemon flavor was more distinct. I would call the texture BRAKE, half way between bread & cake. I liked that it was not so sweet, but also did not find it in need of any added sweetness (jam, powd sugar, etc). It was good last nite w/a glass of milk, is good this am w/my coffee & will be great w/more lemon or a lemon glaze next time. Thx for posting it for us.
Preheat oven to 375 degrees F (190C).
Butter a 9 x 5 x 3 inch loaf pan.
Cream butter with sugar for 6 minutes, until light.
Beat in eggs, one at a time; blend in bananas and lemon juice.
Sift together flour, baking soda and salt.
Blend into banana mixture along with lemon zest.
Turn into prepared pan.
Bake for 1 hour or until tested done.
Remove, cool for 15 minutes and turn out of pan.
Cool completely.