Rita1652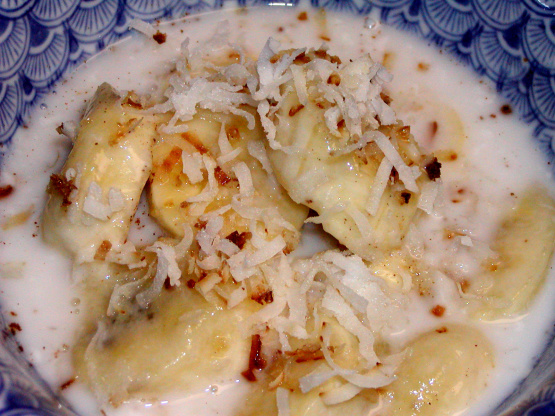 This is a Thai recipe creamy and not too sweet, with all the healthy benefits of bananas, so rich in bone-building phosphorus and calcium, heart-healthy potassium, vitamins A and B6. Great for those leg cramps!

I halved the recipe and ate some for lunch today. Well kind of halved it. I used three bananas, and I also reduced the amount of sugar. I used only one tablespoon for half the ingredients. (A simple taste preference; Australians generally don't eat food as sweet as Americans do). I had some mango left over from when I made Paula G's Mango Shake Recipe #96003 a few days ago, so I had mine with mango, topped with a spoon of yogurt. Sheer decadence! As if it needed to be any creamier! Just SO yummy. This recipe is one I know I will be making often because it is SO quick to make and oh SO delicious! I look forward to making it again, and to sharing it with others. Thanks, Rita, for another fabulous recipe!
In a saucepan, heat the coconut milk with the cinnamon, sugar and salt, and cook gently until the sugar has dissolved. Add the banana pieces and cook gently for 5 minutes.
Remove cinnamon and discard.
Divide the mixture into 6-8 small bowls and serve warm.