Bev I Am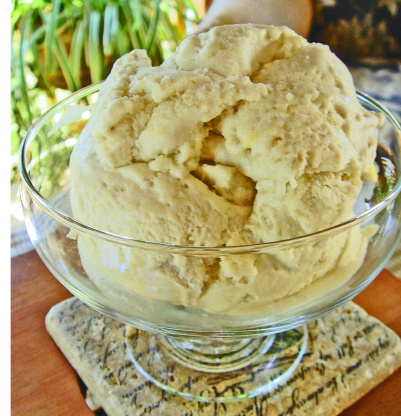 This is a rich creamy ice cream, from the essetti.com website. Use very ripe bananas and only fresh lemon juice - not bottled. Preparation time is estimated, depends on your ice cream freezer.
Top Review by PaulaG
So easy and delicious. I used 4 large very ripe bananas and recipe #26987 for the syrup. About 1/2 cup chopped pecans was added as the ice cream began to freeze. This was used to make ice cream sandwiches which were made with recipe #336579. Nothing like peanut butter, banana and nuts. Thanks for a great recipe that I am sure to make again.
Peel bananas, break into chunks and process with the lemon juice in food processor until smooth.
Stir in the simple syrup and heavy cream.
If your simple syrup was not chilled, chill entire mixture in refrigerator for at least an hour.
Freeze according to ice cream freezer manufacturer's instructions.
This will be a soft ice cream straight from the ice cream maker. It can be frozen to firm up, but use within a day or two for the best flavor.