twissis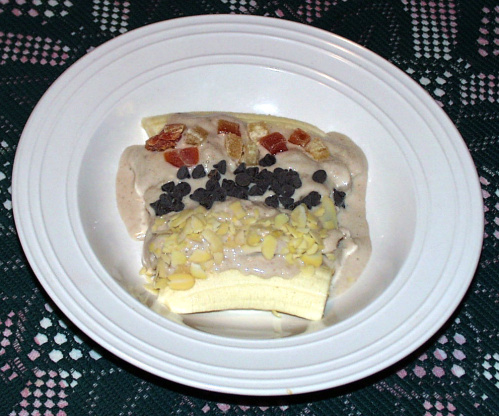 This double-strength banana dessert beats a banana split halfway to Dakar! Served with an excellent demitasse, it is a delicious and sophisticated dessert. Posted for ZWT 2006.

This is so much better then the sum of its parts. I made the frozen mixture (using splenda and fat free half & half) and thought "this is ok." Add it to the fresh banana (which I simply broke up and put into my container) and add a few toppings (Yes, chocolate is a must here!) and this is divine.
4

bananas, mashed into a pulp

8

whole bananas

1

pint heavy cream
1⁄2 cup sugar

Toppings

1⁄2 teaspoon chopped candied fruit (as angelica or red cherries)

1

teaspoon black raisins

1

tablespoon chopped peanuts

1

tablespoon slivered almonds
In a blender, beat mashed bananas, cream and sugar until frothy.
Pour into freezer trays and freeze for 1 to 2 hours until partially firm.
Cut 8 bananas in half lengthwise and then in half across.
Place 4 pieces in a row side by side on a dessert plate.
Spread the frozen bananas uniformly over the fresh bananas.
Sprinkle with toppings.
Serve immediately.