MeliBug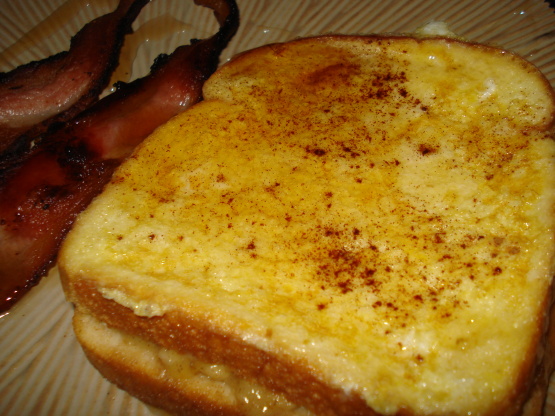 Taken from Nita Mehta's Breakfast Cookbook

Top Review by Debber
Pretty good little recipe! This didn't jump off the plate at me the way I was expecting, but sure went together fast! I followed the recipe pretty much as written, altho' I used a bit more cinnamon as suggested by a previous reviewer (good suggestion!). Served with butter, maple syrup, link sausages, and a fruit salad thing. Was a good weekend brekflest! Made for *PRMR* January 2010.
Whisk 1 eggs in a broad shallow bowl, set aside.
Combine banana, sugar and cinnamon in a small bowl.
Spread half of banana mixture on a slice.
Press another slice on to it.
Dip the banana sandwich into the beaten egg.
Turn after a minute so both sides are coated.
Heat 2 tbs oil in a non-stick pan.
Gently place sandwich in the hot pan.
Reduce heat and cook for a minute until outside egg is cooked.
Turn to cook the other side.
Remove from pan and serve warm.
Repeat with remaining bread and mixtures.