Saturn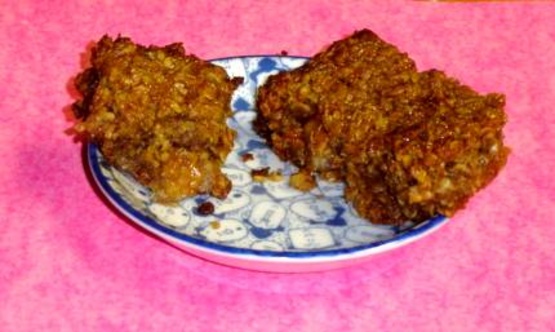 This is from a supermarket magazine. i posted it here for future use and safekeeping. A treat for the afternoon or when you need a little pick-me-up, with nourishing oats and bananas. Cooking time doesn't include time to cool.

Top Review by Saturn
These were great. The banana chips soften only slightly and so they gave a great little crunch. I found that they never really firmed up to my liking though. I even put them back in the oven to try and dry them out a bit. I didn't use the baking paper though as I don't have any. I tried to butter and flour the tin instead. This may have contributed to the "moistness" of the bars. The flavour over all is well worth it though. Plus, the instructions were very easy to follow. I look forward to trying this recipe again. Thanks Sylvie!
Preheat oven to 190°C/375°F/Gas 5.
Line a shallow, 9inch square cake tine with baking paper.
Over a low heat, melt the butter, sugar and honey in a pan, stirring continuously until all the sugar has dissolved.
Remove from heat and add the rest of the ingredients, mixing everything well.
Pour the mix into the prepared baking tin and bake for 25 minutes.
Cut into fingers whilst still warm and allow to cool completely before removing from the pan.