Redsie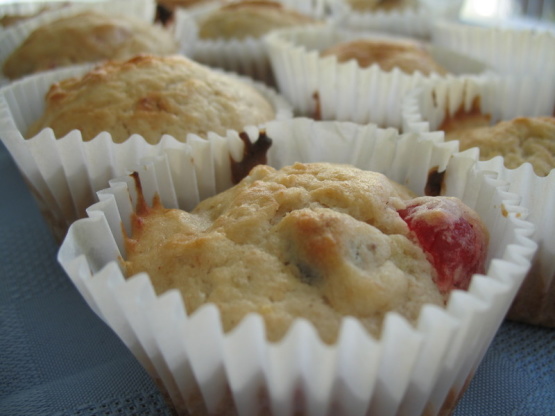 Bananas are my favorite fruit. I also love the sweetness of a daiquiri, so when I found this recipe (heaven only knows where), I thought they were wonderful! If you're not a Rum-Runner (FFF reference), feel free to sub in a few drops of rum extract to taste.

Awesome recipe. I cut the sugar to 1/2 cup, and used bananas (minus cherries). Added some Malibu rum (banana flavored) and seriously the best banana muffins ever!

thank you!!!!!!

ps. if you don't have self rising flour >>>http://www.food.com/recipe/homemade-self-rising-flour-substitute-29318
Preheat the oven to 350°F
Whisk together all dry ingredients.
In a separate bowl, mix together all wet ingredients.
Stir together, just until moistened.
Spoon batter into prepared muffin tins.
Bake 22-25 minutes or until golden.
Cool slightly and dust with powdered sugar.