Banana Cupcakes With Honey-Cinnamon Frosting
DeniseNC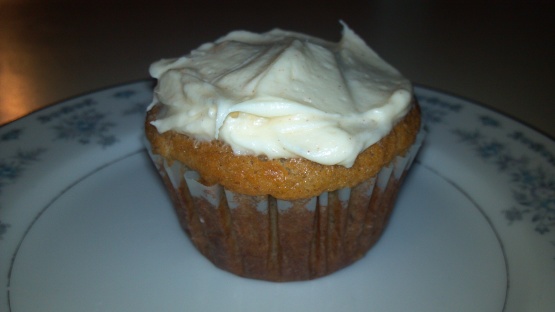 A wonderful way to use up your over ripe bannas. These are like a cross between a muffin and a cupcake. You could serve them for breakfast plain, or add the frosting for a sweet treat. Or if you don't like your cupcakes too sweet, you might consider using a cream cheese frosting instead. This only makes 12 cupcakes and comes together very quickly. From Martha Stewart.
Preheat oven to 350 degrees. Line a standard 12-cup muffin pan with paper liners. In a medium bowl, whisk together flour, sugar, baking powder, baking soda, and salt.
Make a well in center of flour mixture. In well, mix together butter, mashed bananas, eggs, and vanilla. Stir to incorporate flour mixture (do not overmix). Dividing evenly, spoon batter into muffin cups.
Bake until a toothpick inserted in center of a cupcake comes out clean, 25 to 30 minutes. Remove cupcakes from pan; cool completely on a wire rack. Spread tops with Honey-Cinnamon Frosting. Just before serving, peel and slice banana into rounds, and place one on each cupcake, if desired.
Honey-Cinnamon Frosting: In a medium bowl, using an electric mixer, beat confectioners' sugar, unsalted butter, honey, and ground cinnamon until smooth, 4 to 5 minutes.