Banana Cream Cheesecake (Copycat)
Kellogs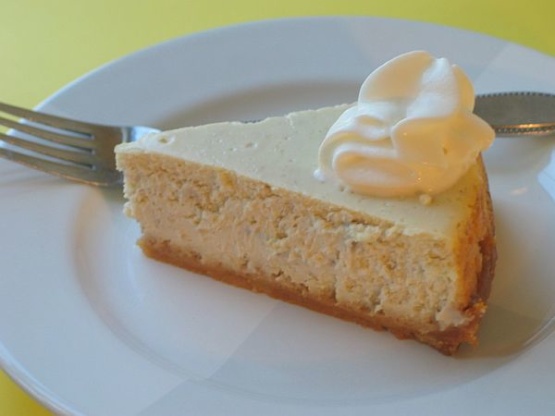 I found this recipe in Robbie's Recipe Collection (recipes.robbiehaf.com) and it is as close to the Cheesecake Factory's recipe as I have tasted.

I made this with a water bath but followed all the rest of the directions exactly. The texture was the perfect, creamy consistency with NO cracks. The cooking times stated were perfect. Everyone thought it was yummy. Mine came out really short so next time I think I'll use a smaller pan- maybe an 8 or 9 inch. I only used one banana cause somebody around here ate all the bananas up! It was fine with just the one but next time I'll use 2 or 3 to give it more banana flavor. Thanks for sharing this one with us!
Use a blender to finely chop the cookies.
Add margarine and blend until they are well combines.
Press mixture into the bottom of a 10" springform pan and smooth it out.
Refrigerate the crust while you make the filling.
Beat cream cheese with electric mixer until creamy.
Beat in sugar and cornstarch followed by the eggs (one at a time).
Beat in bananas, whipping cream, and vanilla.
Pour mixture into crust.
Place pan on a cookie sheet and bake in a 350 degree oven for 15 minutes.
Reduce oven temperature to 200 degrees and bake an additional 75 minutes, or until center is almost set, adding coconut for last 20 minutes.
Allow to cool completely before removing rim of pan -- Before removing the pan, run warm water over a knife and slide a knife around the edge of the cake to separate the cake from the pan cleanly.
Refrigerate cheesecake, uncovered, at least 6 hours.