Annacia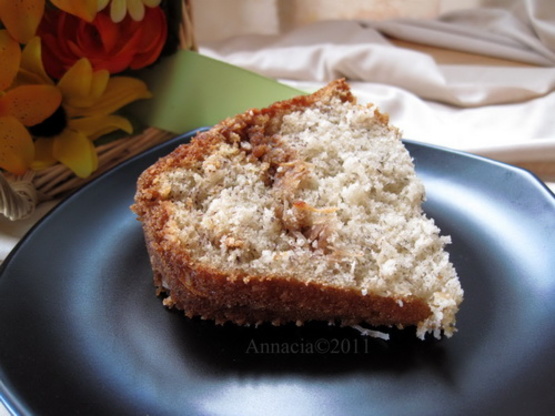 My daughter's boyfriend's mom gave her a cookbook that was created by the Houston Ballet for their Nutcracker Christmas Market in 1984. The recipes in the book were submitted by directors, choreographers, and dancers in the Houston Ballet that year. This recipe was submitted by Leeanna Vidaurri, Corps de Ballet.

Top Review by Katzen
WOW!!! This cake is outstanding! The only change I made was to add a light layer of pecans in the middle struesel layer. The pan I used was a sunflower type hole-less bundt pan, which looks lovely! A couple of notes... Next time I make it I will put last struesel layer in first (rather than last), meaning it will show on the top of the cake! I used unsweetened coconut, which worked out perfectly. Thanks, loof, for sharing this outstanding cake!! Made for 1-2-3 Hits.
In a small bowl mix the coconut, brown sugar, cinnamon, and ginger. Set aside.
Grease and flour a 9" tube pan.
Cream butter and sugar. Beat in eggs, 1 at a time.
Add bananas, buttermilk and vanilla.
Sift flour, baking powder, baking soda, and salt together. Beat into banana mixture to blend.
Pour half of the batter into the tube pan. Sprinkle with half of the coconut mixture. Add remaining batter and sprinkle with remaining topping.
Bake at 350 degrees for 50 minutes.