Food.com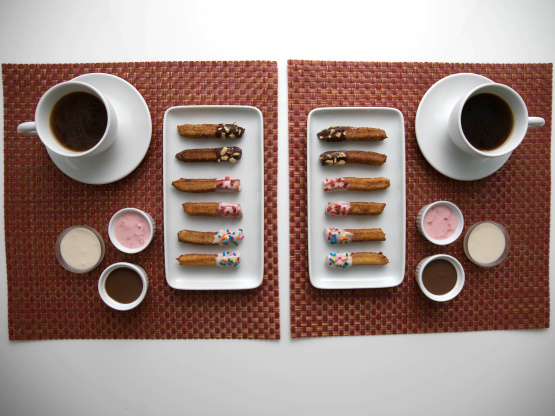 Sweet fried dough that is wonderful for dessert or breakfast. These are best served warm and have a mild banana flavor. Recipe slightly adapted from Ivy Stark. Prep & Servings are an estimate. These are wonderful served with Mexican Banana Splits.

The kids and I loved this but hubby did not...he did not like the banana flavor in it...wants me to try again and leave the banana out. Made for ZWT 07
Bring the water, butter and milk to a boil. Add the flour and baking powder, stirring rapidly until a soft ball is formed and dough pulls away from the sides of the pan.
With an electric mixer, beat in the eggs one at a time and then add the banana.
Allow to cool for a few minutes and pipe into 2 - 4 inch tubes with a pastry bag filled with a star tip.
Fry in 350°F oil until golden brown.
Combine the cinnamon and sugar or if you would like more of a pronounced banana flavor use plain granulated sugar.
While the churros are still warm, dust with cinnamon sugar.