Banana Chocolate Oven Melts
Redsie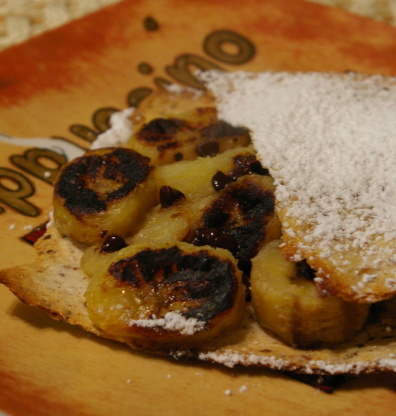 Great when you need a quick chocolate fix or an after school snack for the kids.

Top Review by Redsie
Perfect for a quick chocolate fix - made this in a manner of minutes!! Didn't use sugar with the bananas - but might add a bit next time. The tortillas came out crunchy and sweet (with the powdered sugar!) and the mix of chocolate and banana is HEAVEN!! Thanks Susie! :)
Preheat the oven to 400°F.
Spread each tortilla on one side with 1 1/2 teaspoons butter. Cut each one into quarters.
Heat the remaining butter with the sugar in a skillet. In about 3 minutes, when the sugar dissolves, add the bananas and stir. Cook over medium heat for about 5 minutes, until golden and somewhat soft. Remove from the heat, add the vanilla and gently stir to combine.
Make four "sandwiches":
Put a tortilla-quarter, butter-side down, on a non-stick baking sheet.
Put a few chocolate chips in the center.
Top with a spoonful of the banana mixture and more chocolate chips, and cap off with another tortilla-quarter, butter-side up.
Cover loosely with foil and bake for 10 minutes.
Sprinkle with powdered sugar and serve warm.