Banana Chocolate Chip Muffins
Kellogs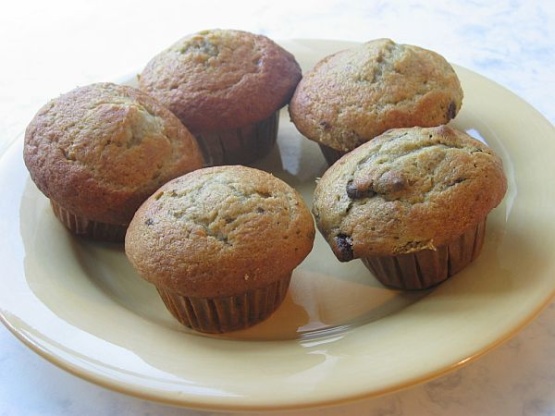 These are the muffins that my teenagers request. I brought them to the airport when my son came home for winter break, at his request. One Christmas I gave baskets with a variety of muffins to co-workers & they liked these the best too, so it's not just a kid recipe.

This is the best banana chocolate chip muffin recipe I've found. The crumb of the muffin is just right, moist and the perfect density. I only had half the recommended chocolate chips but the chip to muffin ratio is perfect. I think double the chips as called for in the recipe might have been overkill. We did regular size and also minis (baked for 12 minutes at 350). I did a double batch and froze some. They reheated very nicely. They're great for busy mornings: just grab out of the freezer and nuke for about 30 seconds for a delish warm treat. Will definitely be making again!
Combine eggs, sugar, milk & bananas.
Combine flour, baking soda & baking powder & add to wet mixture, mixing thoroughly.
Add butter & finally the chocolate chips.
Bake at 350 degrees for 20 minutes.