Banana Chocolate Chip Muffins
twissis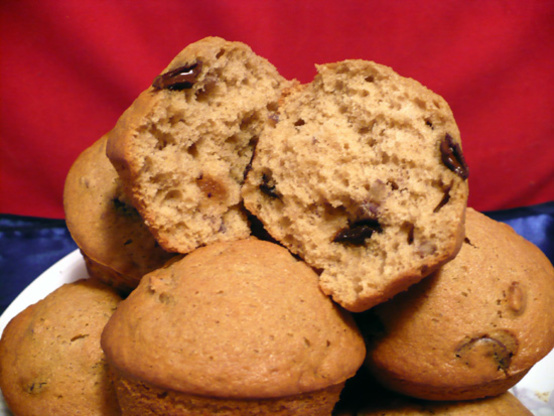 I know there a re a ton of these recipes out there, but this one that I tried from a brand name recipe book, is actually pretty good, and deserves to be tried at least once. The brown sugar gives the muffin a new spin!
puree bananas in blender or mini-food processor; measure 1 cup for recipe. Beat bananas, sugar, eggs butter and vanilla in medium bowl.
Combine flour, baking powder, cinnamon and salt in large bowl. Stir in chocolate chips and nuts.
Make a well in the center of dry ingredients. Add banana mixture. Stir until blended. Spoon into greased 2 1/2 inch muffin pans (or right into muffin liners).
Bake 350°F for 25 to 30 minutes, or until toothpick inserted in centers come out clean.