Banana Choco Chip Muffins
Karen..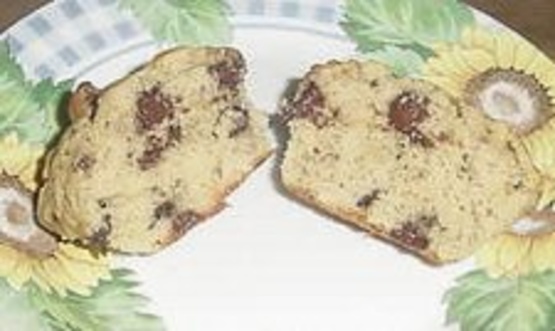 Yummy! Made these tonight as a treat for everyone. I never thought of chocolate chips instead of nuts in banana muffins, but what a great combination :) Thanks for posting. P.S. just a note...I only got 12 regular sized muffins out of the recipe instead if 18, but I used small bananas.
Heat oven to 375.
Place 18 paper baking cups in 18 muffin pan cups.
Peel bananas, and mash with a fork.
Set aside.
Place veg oil and brown sugar in large bowl, mix with wooden spoon until well blended.
Add eggs, milk, vanilla and mashed bananas, mix well.
Add flour, baking power baking soda and salt.
Stir just until all dry ingredients are moist.
Stir in choco chips.
Spoon batter into muffin cups-each cup should be a little more than half full.
Bake 20-25 minutes.
Place on wire racks and let muffins cool in pan for 3 minutes.
Remove muffins from pans and serve warm.