Piya.HMO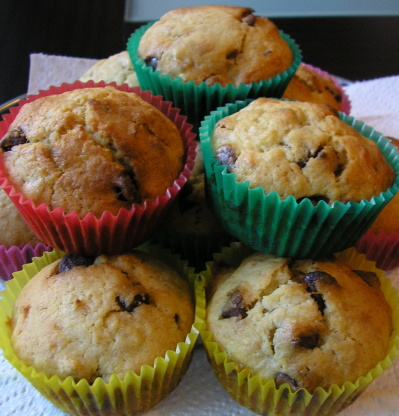 A yummy muffin that's so simple to make when you have some over-ripe bananas, and are packed full of choc-chips. These are just great straight from the oven, but also keep well in an airtight container for about 3 days (or in an airtight container in the fridge for up to 1 week). Heat them in a microwave for 10 seconds and they'll taste like they've been freshly baked.
Preheat oven to 175 degrees celsius. Line a muffin pan with cupcake liners.
Melt the butter in a microwave in 10 second bursts. Break the bananas into a few pieces, place in a medium bowl and mash with a fork. The more ripe the bananas are, the easier they will be to mash.
In a large bowl, add the flour, baking powder, salt, caster sugar and chocolate chips. Combine well.
To the mashed bananas, mix in the egg, vanilla extract and milk until well combined. Fold the melted (and now cooled) butter through the bananas.
Make a well in the dry ingredients and add the banana mixture. Stir with a wooden spoon until just combined, scraping the bottom of the bowl so there's no lumps of unmixed flour.
Spoon the batter into the cupcake liners until 3/4 full. Bake for 25 minutes, then turn muffin tray around in oven so the tops brown evenly. Bake further 5 minutes or until a skewer inserted in the centre comes out clean.
Let cool in pan for 5 minutes; serve warm with a glass of cold milk.