Banana, Carrot & Pineapple Cake Aka Sunshine Cake
Jen T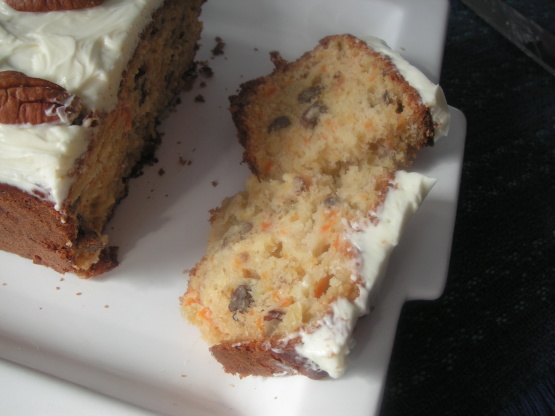 This is a lovely iced cake (lighter version of a carrot cake) or have as a buttered loaf. I can kid myself that it is good for me because of the ingredients :) I saw this made on TV on the AWW Fresh cooking site (I think) and had to try it. It was a bit of a hit & miss with the ingredient amounts but I think I have them right as this is what I made mine with. I find I like to get all ingredients prepared first as then it is much easier to mix it altogether. Leave until cold before slicing)

Oh wow, I'm a happy woman now! I used to make this cake and lost the recipe in a recipe purge, (last time I do that!). The only difference is my recipe used raw sugar instead of the brown sugar. Thanks for putting the recipe up.
Preheat the oven to 180°C.
For the cake, line a 20cm cake tin, or for a loaf, line a large loaf tin.
In a large bowl beat the eggs, sugar and lemon zest together until creamy.
Slowly add the oil while beating continuously.
Sift the flour, salt, and baking powder together and stir into the creamed mixture.
Fold in the banana, carrot, pineapple and chopped nuts until incorporated.
Spoon mix into prepared tin and bake for 55-60 minutes or until firm to the touch.
Remove from the oven and allow to sit for 10 minutes before turning out onto a cooling rack.
Allow to cool and if a cake, ice and keep in an airtight container, or, if a loaf, wrap in plastic wrap to store, or place in an airtight container. Serve the loaf either plain or buttered.
ICING:.
In a medium bowl beat the cream cheese, icing sugar, lemon zest and juice until smooth.
Spread over the cooled cake and decorate with pecan or walnut pieces.