Banana Carob Chocolate Muffins
jewelsf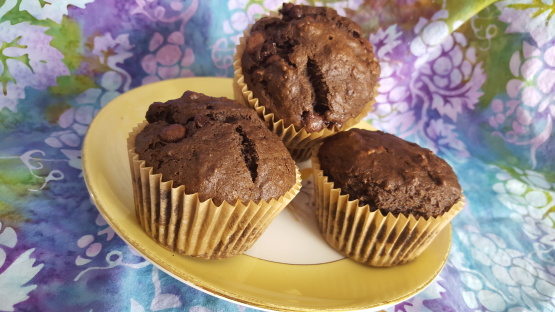 I modified a chocolate banana muffin recipe to incorporate carob. I hope you enjoy this recipe!

Yummy!!! DH, DD and I liked these sweet banana "chocolate" muffins. I made ours gluten free using one batch of recipe#360337, using sweet rice flour in place of potato starch, white sugar as called for in the higher amount here, no baking powder, but I did add 1 tbs organic apple cider vinegar at the end to help with the rise, a bit over 1/4 tsp sea salt, a bit extra organic coconut oil, a bit extra really black skinned mushy banana, regular carob powder (I didn't notice it said toasted), no berry applesauce (that's why the extras), all carob chips, plus the rest of the ingredients.
mix dry ingredients in a large bowl.
Mix wet ingredients in a separate bowl. Make a well in dry ingredients and add wet ingredients. Stir until just mixed. Add chocolate and carob chips and stir until incorporated. Bake in regular sized muffin tin at 350 degrees for 20 to 25 minutes, until a toothpick tests clean. Makes 1 dozen muffins.