alligirl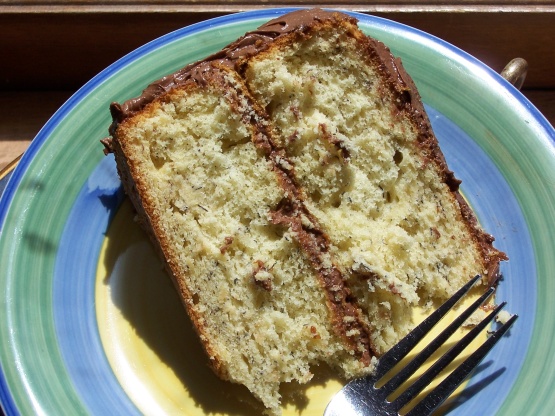 I found this on All Recipes. It was submitted by Beth. I served it with chocolate frosting #44126. Wonderful treat!

Such a winner! This cake is moist and beautiful! It baked well and mine was done in 35 minutes. (I used 2 9-inch pans) I frosted this with recipe#320258 and it was a perfect compliment! I would be proud to serve this for breakfast (plain), dinner at home or a potluck! Thanks for sharing a great recipe, kit in NO!
Preheat oven to 350 degrees (175 degrees C).
Grease and flour two cake pans and set aside.
Mash banana and set aside.
Combine cake mix and baking soda in the large bowl of an electric mixer.
Add the rest of the ingredients and beat on low speed until combined (about one minute).
Beat at medium speed for 4-5 minutes.
Divide batter between the two pans and bake 30-35 minutes or until center of cake springs back with lightly tapped. (A tooth pick stuck in the center may leave a slight crumb.).
Allow to cool on a wire rack and frost.