GaylaJ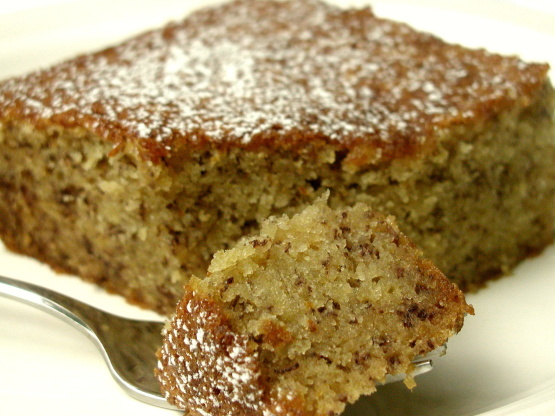 This cake has been in my family for as long as I can remember! Very moist and fluffy cake. Great as a snack for the family or for a small gathering. I have received so many compliments on this cake! Use your imagination. It doesn't need to be topped with any icing, or can handle it if you do.

this is just like a recipe that my aunt has! It is HEAVENLY with homemade cream cheese frosting!
Preheat oven to 350 degrees.
Grease and flour a 9x9 inch pan.
Dissolve baking soda in the sour cream.
In a large bowl, cream butter and sugar until light.
Add eggs and beat well.
Add sour cream/baking soda mixture, mashed bananas and vanilla stir to combine.
Add cake flour and mix well.
Pour batter into a 9x9 inch pan and bake at 350 degrees for 45 minutes or until done.