Katzen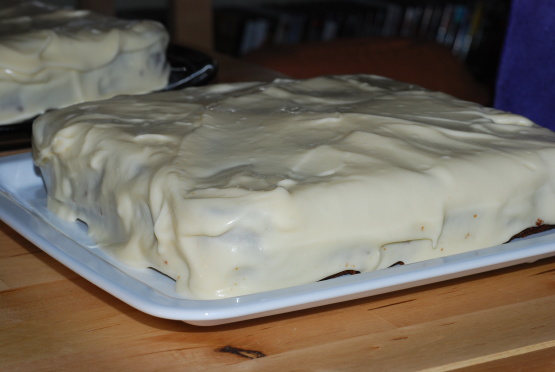 This is Lovely! I had never made cream cheese icing before and this is so easy and delicious.

Top Review by Katzen
My goodness, is this ever good! I love the icing, and I don't normally like cream cheese icing... although I do find I like it more and more, particularly this one. I really liked what whipping the egg whites did for this cake, too. I split this up into two 8x8 pans, so DH and I could each take one to work. Bake time was 30 minutes when done that way. Oh, and I added the oil in with the bananas - I didn't see where to add it in the directions. Thanks for the awesome recipe, Lorrie! Made for 1-2-3 Hits.
For Cake.
Preheat oven to 350°F.
Grease a 13x9 inch pan.
Stir together the flour, baking soda, and salt.
Set two large spoonfuls of sugar aside.
In a large bowl, beat the egg yolks with the remaining sugar, beat until light in texture, then add the mashed banana, oil and buttermilk, mix well.
Add the dry ingredients to the banana mixture and beat until smooth.
In a separate bowl, beat the egg whites with the two spoonfuls of sugar until they are stiff but moist.
Plop the beaten whites on top of the batter and fold in until blended.
Spread evenly in the prepared pan and bake for 35-40 minutes,or until a cake tester(I use wooden kabob skewers -- LOL) inserted in the centre comes out clean.
Let cool in the pan and frost with the following cream cheese icing.
Cream Cheese Icing.
Combine the cream cheese, butter, confectioner's sugar and lemon juice in a mixing bowl or the bowl of a food processor.
Beat well or process until smooth and spreadable.
Makes 3 cups of icing.