loof751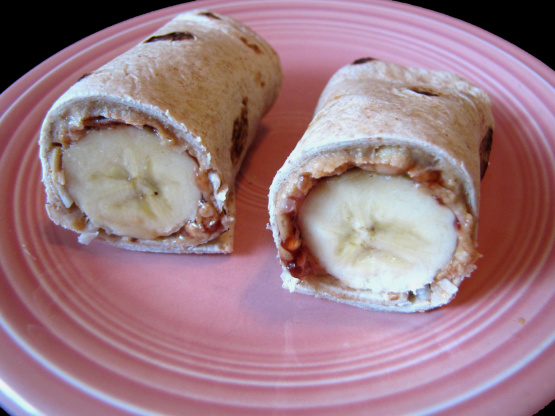 A quick snack or breakfast. From Weight Watchers. This is from an OLD WW plan of my mother's and points weren't given, but thanks, senseicheryl, for calculating them. 5 WW Pts.

This is a favorite I have been doing with variations for awhile but never microwaved before-so a new addition. I use pb2 powdered peanut butter and skip jelly and coconut in favor of cinnamon and something textured which adds a lot in my opinion. I got idea from another recipe like this -add sprinkle of fiber one or I like Kamut puffs from Natures Path. Jelly good too or apple butter unsweetened. Have even added shredded carrots, or apple instead of banana..so many variations. Thank you for yours.
Lay tortilla on flat surface and spread evenly with peanut butter and jam.
Sprinkle with coconut.
Place banana on edge of tortilla and roll up to enclose.
Wrap loosely in paper towel and microwave on high for 30-35 seconds.
Unwrap from paper towel and enjoy!