Banana Bread W/Nutella and Chia Seeds
Sammit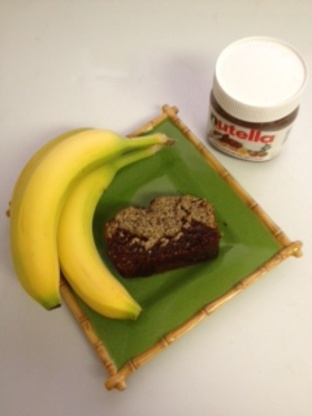 I've been searching for new ways to cook with Chia seeds...I came across a chia "dessert" bread recipe and decided to play. It's in the oven now, and smells delicious!
Preheat oven to 350 degrees.
Combine first five ingredients one at a time into an electric mixer.
In a mixing bowl, mix together the flour, chia, salt, baking powder & soda.
Slowly add the dry ingredients to the electric mixer.
Place one cup of batter into bowl, and pour remaining batter into lightly greased 9"x5" loaf pan.
Add nutella to the one cup of batter, mixing well.
Add nutella batter to loaf pan. (I used a butter knife to swirl the layers together gently.).
Bake for 35-40 minutes or until toothpick inserted into the center comes out clean.
Let cool for 10 minutes and turn onto a wire cooling rack.
Enjoy!