Banana Bread - Quick Bread for Machines
Eldeevee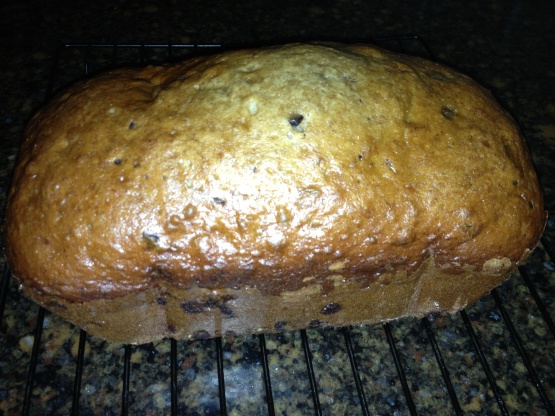 If you have extra bananas this is a good way to use them. "A quick banana bread for the bread machine. Use the DOUGH setting for mixing, then BAKE with the control set to light."

Top Review by akmama
Great recipe! Very simple I already have it memorized after just one loaf. I am making 2 more today as well to use up my bananas. I used the quick bread setting on my machine and set it to light and mine came out perfect. Thanks so much for sharing. Hubby already ate 4 pieces (on his lunch break). He rated it 4 stars, but I added one because it was so easy and quick.
Place ingredients in the pan of the bread machine.
Select the Dough setting, and press Start. Mix the bread for 3 to 5 minutes until the bananas are mashed and all ingredients are thoroughly combined.
If necessary, use a rubber spatula to push the dough from the sides of the bread pan. When 3 to 5 minutes have passed on the clock display, press Stop. Do not continue mixing.
Smooth out the top of the loaf with the rubber spatula.
Select the Bake setting, and press Start. The Bake cycle time may vary with machines, but should be about 50 minutes. To test the bread for doneness, insert a toothpick into the center top. Remove the toothpick. If the bread is done, the toothpick will come out clean. If there is dough on the toothpick, reset the machine on Bake and continue to bake an additional 10 to 15 minutes.
Test again with the toothpick to assure the bread is completely baked. Remove the pan from the machine, but allow the bread to remain in the pan for 10 minutes.
Remove the bread to cool completely on a wire rack.