karen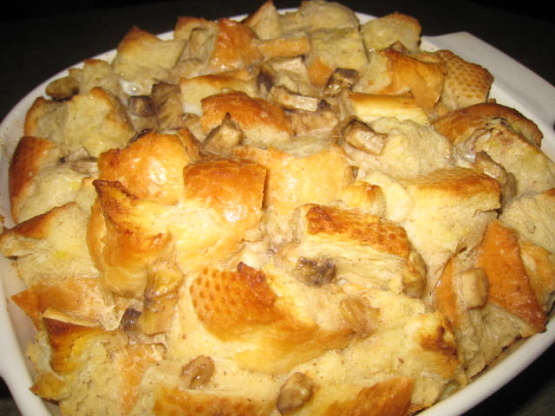 Oh my goodness! What a recipe. I really don't know what to say, except incredible!

I threw this together as a treat for some last-minute guests. Simple ingredients, divine results! I had to sub some almond milk for part of the milk, and I'd say to be careful with adding extra sugar. I did, and next time I will stick to the recipe to suit my tastes.
Preheat oven to 375°.
Place bread cubes into greased 2-quart casserole; pour butter over and toss to coat.
In medium bowl, lightly beat eggs. Add the milk, sugar, vanilla, cinnamon, nutmeg and salt.
Stir in the bananas. Pour over bread and stir to coat.
Bake uncovered for 40 minutes or until a knife inserted near the center comes out clean.
While baking, melt butter in a small saucepan. Combine sugar and cornstarch; add to butter.
Stir in milk and corn syrup. Cook, stirring, over medium heat until mixture comes to a full boil.
Boil 1 minute then remove from heat; stir in vanilla.
Serve warm over warm pudding.