Cortnie J.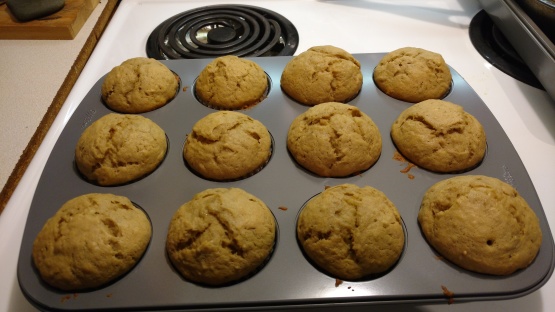 I had some over ripe Bananas & wanted to make Banana bread, but couldn't find my loaf pans. I modefied this Banana Bread recipe, & ended up with the most fantastic Banana Muffins! My Husband (who's very picky), & son (just as picky), went nuts over these. Very good. The best part, is not having to slice up a loaf. Just peal off the cupcake papers & eat!
Outstanding! Quick and easy to make, you will always have most ingredients on hand. As a professional chef I only added a little vanilla to enhance the banana flavor - not a lot just a few drops. I also used 4 well ripened bananas I like to wait until the bananas are close to being black, trust me you will get the best banana flavor when you ripen them this way. To get the nice dome you must fill the cupcake paper to the top.
Preheat oven to 350°F.
Line Cupcake tin with papers & spray with vanilla pam (pam for baking).
In Large bowl, combine flour soda & salt.
In a separate bowl, cream together Butter & Sugar.
Stir in Eggs & mashed Bananas until well blended.
Stir Banana mixture into flour mixture (I used an electric mixer on low).
Fill muffin tins with generous amount of Banana batter (I fill almost to the top).
Bake 20 min or untill toothpic comes out clean.