Ambervim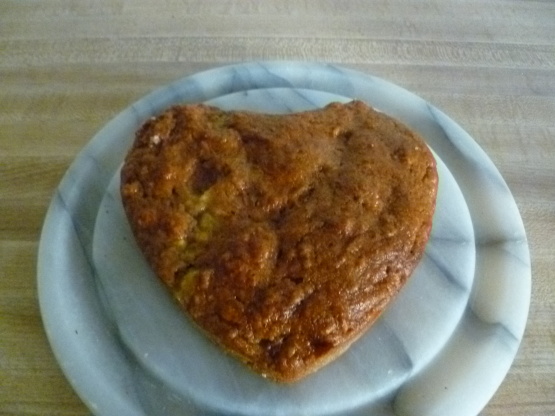 One important thing is missing from this recipe: Salt! Never bake sweets without salt. One teaspoon was the right amount for this recipe. Now that that's out of the way: This is terrific! Mine came out a little dry; after just 45 minutes it was almost overdone. I substituted yogurt for the applesauce since the best (fattening) recipe I know calls for sour cream. Also cut the sugar by 1/3, added whole wheat flour to the mix, used two whole eggs, and mixed in some chopped toasted walnuts. Next time, when I'm not making this for my Splenda-phobic family, I'll use brown sugar blend.
Preheat oven to 350°.
Spray a 9 x 5 loaf pan with non-stick cooking spray.
Combine flour, baking powder, baking soda and cinnamon and set aside.
In a large bowl, whisk together applesauce, sugar, egg whites, banana and vanilla.
Add flour mixture all at once and stir gently to blend.
Pour batter into prepared loaf pan and bake for 50-60 minutes or until knife inserted comes out clean.
Cool bread completely before slicing.