Diana M.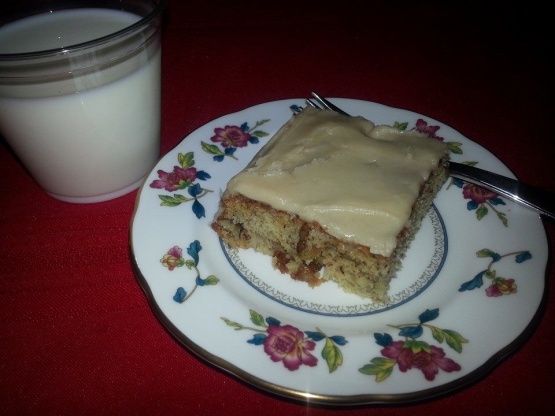 Caught this on facebook and submitted here for safekeeping. Prep time and number of servings are estimations.

I saw this posted on FB this morning and I made the recipe this afternoon...it looked THAT good! Yes, it tastes as good as it looks, too. I'm not the biggest fan of banana tastes but this banana bread brownie is truly amazing. It's moist, sweet, flavorful and memorable. Both my kids and my husband had 3 helpings tonight for dessert! I will definitely be making these again for dessert and for parties. Yum!!
Heat oven to 375°F Grease and flour 15x10-inch jelly roll pan. For the bars, in a large bowl, beat together sugar, sour cream, butter, and eggs until creamy. Blend in bananas and vanilla extract. Add flour, baking soda, salt, and blend for 1 minute. Stir in walnuts.
Spread batter evenly into pan. Bake 20 to 25 minutes or until golden brown.
Meanwhile, for frosting, heat butter in a large saucepan over medium heat until boiling. Let the butter turn a delicate brown and remove from heat immediately.
Add powdered sugar, vanilla extract and milk. Whisk together until smooth (it should be thicker than a glaze but thinner than frosting). Using a spatula, spread the brown butter frosting over the warm bars (the frosting will be easier to spread while the bars are still warm).