Suzie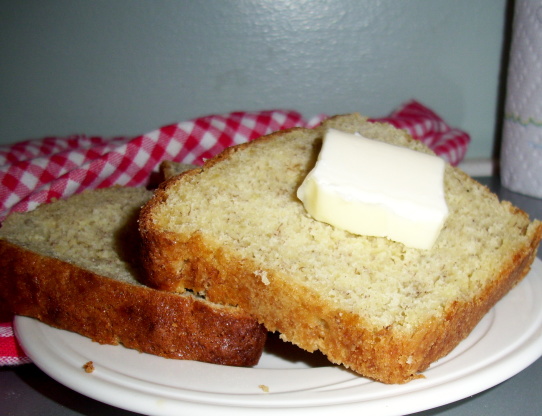 This is as basic a banana bread as you can make, but it's so delicious. I originally got this recipe when I was working on my library degree many years ago. It was first published in a government booklet on thrifty recipes. I realize that this calls for a large amount of baking powder, but that's what the original recipe listed. Also I have usually made it plain, but have occasionally added nuts or vanilla.

Top Review by Suzie
I totally agree with the chef! This is as basic a recipe as you're gonna' get. Made for Spring, 2010 PAC. I added a teaspoon of vanilla and am glad I did. I didn't get the full-bodied banana flavor I was hoping for, and perhaps could have used a bit more sugar. However, this recipe, because it is so basic, gives you lots of room to play around in. Basic recipes are essential to helping us learn to be creative. Thanks, Librarybaker, for sharing!
Mix the flour, baking powder and salt.
Mix the sugar, shortening, and eggs together.
Stir in the bananas.
Add the dry ingredients and stir just until smooth.
Pour into a greased 9X5X3" loaf pan.
Bake at 350 degrees until firmly set when lightly touched in the center, about 50 to 60 minutes. Bread may crack across top; that's fine.
Cool on rack for 10 minutes and then remove from pan to continue cooling.