Mmmama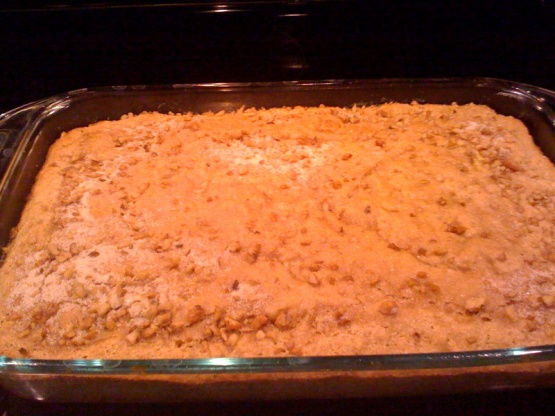 This recipe is more like a coffe cake style than bread. It is so delicious and relatively easy to make.

Words can't do this banana bread justice. I followed the receipe exactly, and it turned out unbelievably delicious. Best banana bread I've ever had, and my boyfriend and all the recruits in his police academy agree! Thanks for a fantastic recipe!
In large bowl, cream butter until light and fluffy.
Gradually beat in sugar.
Beat in eggs one at a time.
Add mashed bananas, vanilla and sour cream.
Sift together flour, baking powder, baking soda and salt.
Fold into the creamed mixture, stirring just to blend.
In a small bowl, combine topping ingredients.
Sprinkle half the mixture over bottom of a well greased 9x13" baking dish.
Spoon in the batter.
Sprinkle with remaining topping.
Bake at 350 degrees for 20-25 minutes.