Elkaybee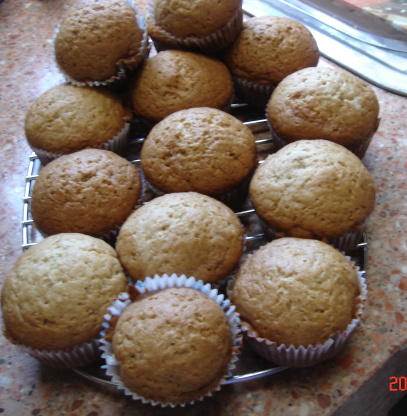 This is my favorite banana bread recipe and I won't eat any other. I hope you will like it as much as I do!

I also happened to have everything on hand to make this recipe. Which in my kitchen is unusual. I found it incrediblly easy to make, I did the whole thing in the food processer!!! Because I don't like to have a whole "loaf" on hand at once, I made it in my muffin tins, and baked them only 20 minutes. I got 24 nice sized muffins,that were very moist, and had a good flavor. In half of them I put chocolate chips, because my daughter likes them. I would love to be able to figure out how to put peanut butter in them. This recipe will replace my old favorite!!
Preheat oven to 350 degrees Fahrenheit.
Butter pan.
Peel bananas and mash with fork in a small bowl.
In a different bowl mix the sugar, oil, and egg until creamy yellow.
Blend in the mashed bananas and add nuts if wanted.
Add flour, baking soda, and salt.
Destroy any lumps.
Put the batter into a loaf pan and bake for 1 hour or until tooth pick comes out clean.
Enjoy!