Chickee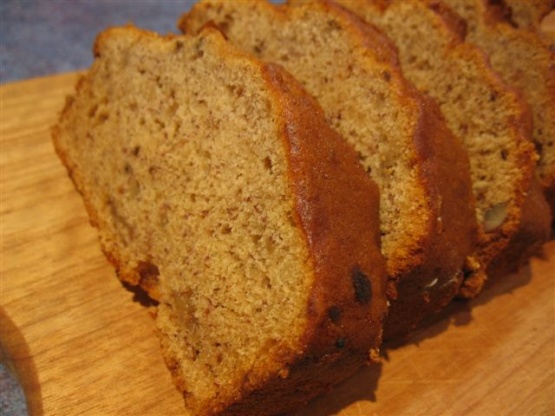 This is a recipe my mother uses. Her hometown grocery store actually gave her too-ripe bananas to bake this bread and sell in their store. My friend, Amy, would say this is her family's most-requested treat from "Aunt Becky".

Great bread! Unfortunately I wasn't able to put much cinnamon in as I ran out which was a shame, I can tell it would have really added something. The only complaint I have was that they seemed quite short- perhaps my pans are too long. Good texture and taste though, love it with butter. Thanks!
Preheat oven to 350 degrees.
Cream shortening, sugar and egg. Add mashed bananas and sour milk. Note: To make sour milk, I place a drop of distilled vinegar in the bottom of the measuring spoon and fill the rest up with milk.
Sift dry ingredients and add to banana mixture, mixing carefully.
Divide the batter in half. I like to add nuts to one loaf, cranberries to the other or just make one or both plain.
Pour batter into two greased loaf pans.
Bake for 45-50 minutes or until a toothpick or cake tester inserted in the center of each loaf comes out clean.
When done, remove from oven and cool on a wire rack for 1-2 hours.
To remove bread from pan, carefully turn pan upside-down and place hand under loaf to catch.
Cut into 1/2-inch slices and serve with or without butter spread.
Store in air-tight container. The bread will keep for up to five days.