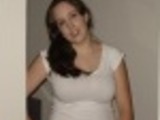 I found this on betty crocker.
Directions
Move oven rack to low position so that tops of pans will be in center of oven. Heat oven to 350ºF. Grease bottoms only of 2 loaf pans, 8 1/2x4 1/2x2 1/2 inches, or 1 loaf pan, 9x5x3 inches.
Mix sugar, applesauce and margarine in large bowl. Stir in egg product until well blended. Add bananas, buttermilk and vanilla. Beat until smooth. Stir in flour, baking soda and salt just until moistened. Stir in nuts. Pour into pans.
Bake 8-inch loaves about 1 hour, 9-inch loaf about 1 1/4 hours, or until toothpick inserted in center comes out clean. Cool 10 minutes. Loosen sides of loaves from pans; remove from pans and place top side up on wire rack. Cool completely, about 2 hours, before slicing. Wrap tightly and store at room temperature up to 4 days, or refrigerate up to 10 days.
This yields 2 loaves with 24 slices each.
Most Helpful
Very good banana bread! Instead of margarine I used butter and added 4 ripe bananas. My egg substitute expired so I added one egg and about 1/2 cup of chopped walnuts. Baked in one loaf pan and one square baking dish and enjoyed! Thank you Jen's Kitchen, will definitely be making this again!

This is a delicious and flavorful banana bread. I used 2 eggs in place of the egg substitute, 4 medium ripe bananas and 1/4 cup butter. It baked beautifully in about 1 hour. It was golden brown with great banana flavor. I also used pecans and it was very yummy!
I just made this for my hubby's christmas present and he loved it. I made it with what I had on hand. I used 6 bananas, 1/4 cup 2% milk and 1/4 cup of 1/2 & 1/2, 2 whole eggs and the all purpose flour I had on the shelf. I sprinkled the mashed bananas with sugar and did not use nuts due to an allergy. I also added a pinch nutmeg. I took this out of the oven and he wanted a slice hot. He really it liked it. We will make this again without a doubt!! thanks for the great recipe!!