Juenessa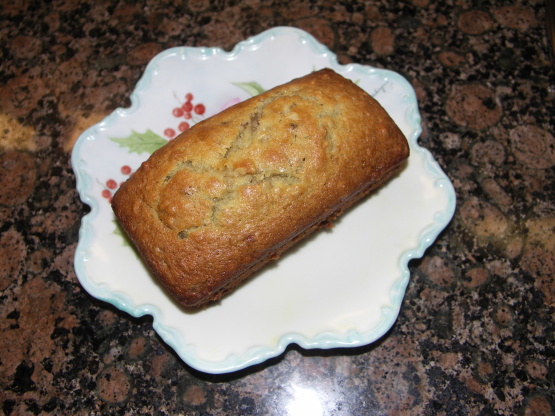 I have made this for years. It's always wonderful! It's from an old Pillsbury cookbook. I like to add chocolate chips as a treat.
Heat oven to 350°F.
Grease (not oil) bottom only of 9x5 or 8x4 inch loaf pan.
In large bowl, blend first 6 ingredients; beat 1 minute at medium speed.
Stir in remaining ingredients just until dry ingredients are moistened.
Fold in nuts and or chocolate chips.
Pour batter into prepared pan.
Bake at 350°F for 50 to 60 minutes or until a toothpick inserted in the center comes out clean.
Cool at least 5 minutes, remove from pan.
Yummy :).