Prep 20 mins
Cook 55 mins

I know how many recipes can there be for Banana Bread? But I can assure you that this is so quick and easy you won't look for another recipe ever.
Directions
Mash bananas.
Mix the first 5 ingredients, with pastry blender cut in the butter till coarse, add bananas and eggs.
Put in lightly greases loaf pan.
Bake at 350 for 55 minutes.
We have added chocolate chips, nuts, raisins, craisins about 1/2 cup each.
Add them all or just one.
Most Helpful
Turned out great - I made with Splenda in place of sugar w/ success. Thanks Kasia - another keeper.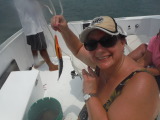 This turned out great!I just put all the ingredients in one giant bowel and mixed it with my mixer,it was great with a handfull chocolate chips in it!