Anonymous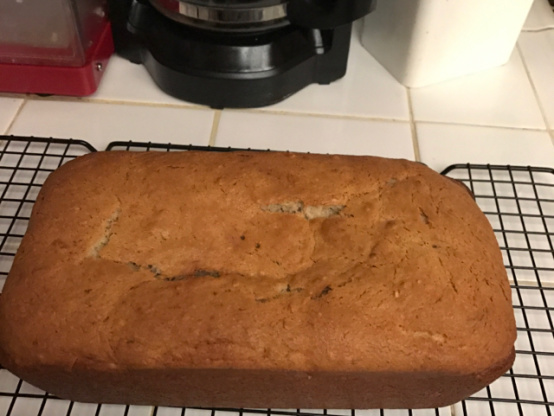 Awesome! I used some VERY RIPE (black) bananas that had been in my freezer and was happy with how well it turned out. I make it in 2 smaller loaf pans and baked for about 40 minutes and plan and giving 1 to the new neighbor. I used 1/4 tsp. of lemon peel (from my spice rack) since I didn't have any fresh lemons on hand. Like others, I also added about a tsp. of vanilla, just because :-) Definitely a keeper and I will make it again.
Preheat oven to 350°F.
Grease 9 x 5 inch loaf pan.
Sift flour,baking powder, baking soda, salt, ginger, allspice and nutmeg together in bowl.
Add lemon zest and almonds.
Stir until combined.
Set aside. Beat butter in large mixing bowl until soft and creamy.
Beat in sugar until light and fluffy.
Add eggs and beat until thoroughly blended.
Beat in flour mixture alternately with bananas until mixture is well blended.
Pour into prepared pan.
Bake in center of oven 1 hour to 1 hour 5 minutes, or until toothpick inserted in center comes out clean.
Cool in pan on wire rack 10 minutes.
Invert from pan and cool completely on rack.
Variation: Banana-walnut or -pecan bread: Omit almonds.
Add 3/4 cup coarsely chopped walnuts or pecans with bananas.