Banana Bran Pancakes (Diabetic)
loof751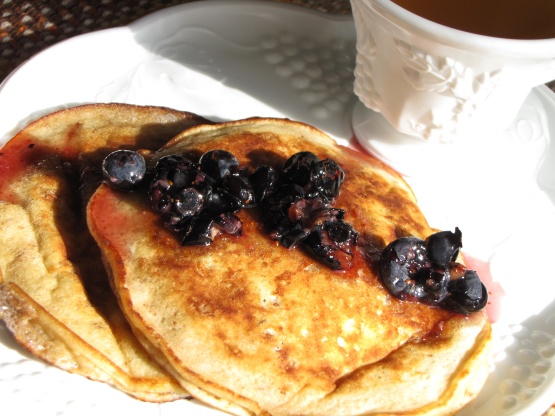 These are a perfect Sunday morning breakfast with sugar free maple syrup. You may need to adjust the amount of flour slightly depending an the amount of moisture in the bananas. Yield depends on how big you make the cakes. Baking time also depends on the size of the cakes.

Wonderful recipe! I halved the recipe and used 1 real egg, otherwise made as directed. These pancakes were light and fluffy with great flavor. Instead of sugar-free syrup, I mashed up a handful of blueberries, mixed with just a little syrup, and warmed it in the microwave. Just loved this delicious breakfast - thanks for sharing the recipe!
In blender, process milk, eggs, oil, vanilla, and banana just to mix.
Add bran cereal, process, add remaining ingredients.
Process to combine, scrape sides of container.
Let stand 5 minutes.
Stir.
Bake on preheated, lightly greased griddle over medium heat.
Pour batter to form pancakes, cook.