Dorel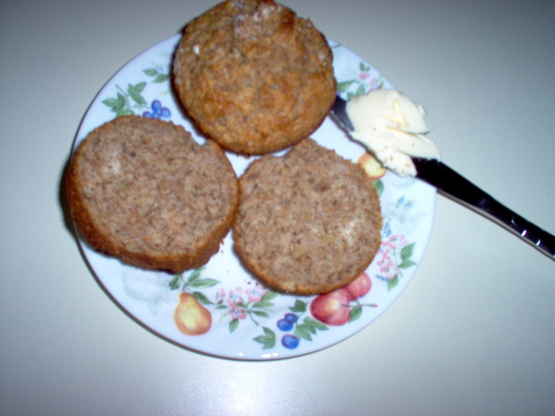 I like to put bran in my muffin recipes and had very ripe bananas and couldn't find the recipe I needed on zaar. This is from Meals.com. Very healthy.

Quite a good bran muffin recipe, but I didn't get quite as much banana flavor as hoped for -- though this rating may be invalidated by my using of oat rather than wheat bran. Everyone should try these and compare them to Honey Whole Wheat Banana Muffins, Recipe #115432, and my own Handyman Bran Muffins, #151769, before you decide on a favorite muffin, since all three recipes are good!
In a large bowl combine bran, mashed banana, and milk, stirring well.
Let stand 5 minutes then add brown sugar, oil, and egg and mix well.
In another bowl, combine flour, baking powder, cinnamon and salt and nuts if using.
Stir into the bran mixture until just combined.
Spoon into greased or paper lined muffin tins.
Bake at 375F for 20 to 30 minutes.
If you make 12 muffins bake for about 20 minutes.
I made 6 giant muffins and baked for 30 minutes.