Banana Bran Breakfast Bread
GaylaJ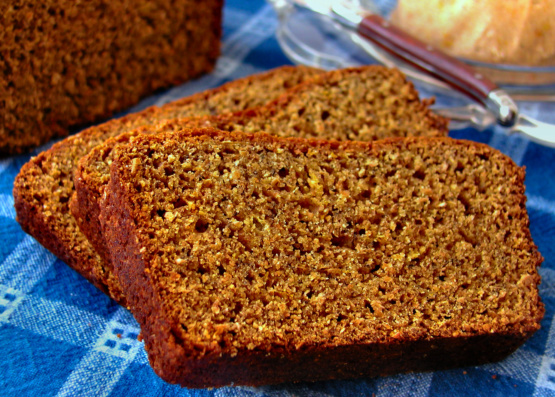 Delicious plain or toasted and stays moist for days. Recipe from Canadian Dairy Farmers Association

This is fantastic! The kids just inhaled it for dessert calling it "cake." I made just as written but replaced butter with coconut oil, left out the raisins and added a few chocolate chips instead. Very easy, healthy, and yummy. That's 5 stars from us. Thanks 1Steve....
To make buttermilk if fresh is not available, combine 1 tbsp (15 ml) of white vinegar with milk.
Preheat oven to 350 °F (180 °C).
In a large bowl, stir together bran, both flours, baking powder, baking soda, salt and cinnamon; set aside.
In a medium bowl, beat together buttermilk, brown sugar, butter, eggs, bananas, orange juice and peel.
Fold into dry ingredients just until moistened.
Stir in raisins and walnuts and spoon batter into a buttered 9"x 5" (23 x 13 cm) loaf pan.
Bake for 55 to 60 minutes or until a toothpick inserted in the centre comes out clean.
For the adventurous:Add dried cranberries instead of raisins.