Banana Bourbon French Toast
Xexe383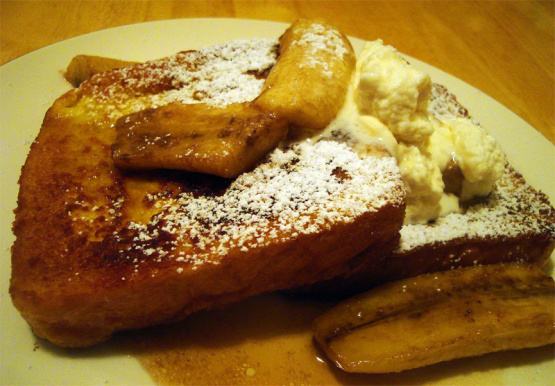 This is very rich and delicious and is perfect for impressing your company. I love it, but usually scale it down quite a bit since it's just me. It's in my B&B arsenal.

WOW! What a Father's Day treat for DH! Made this with Brioche Loaf # 94536 and it was fabulous! Simple, yummy and very filling. The only change I made -- due to personal preference was I substituted Captain Morgan's Rum for the Bourbon and added a splash of Banana Liquor with a little nutmeg as this is how I usually make Banana's Foster. Great recipe! Thanks for posting!
To make sauce: In a small pan, melt butter and brown sugar over medium heat; carefully add bananas and simmer for 2 minutes. Remove from stove and add bourbon; return to flame and continue simmering an additional 2 minutes. Cover and keep warm until ready to use.
To make batter: In a large bowl, whisk eggs and salt. Add vanilla. Pour in cream, continuing to whisk until well blended.
Melt 1 to 2 tablespoons butter in a large frying pan over medium-high heat. Dip each bread slice in batter and cook each side until golden brown. Repeat with remaining bread slices.
Transfer 2 bread slices to individual plates and top with banana slices and sauce. Serve with maple syrup or powdered sugar.